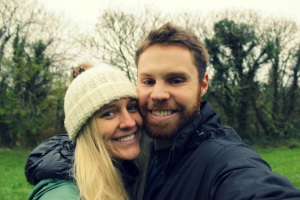 Matt and Brittany came to stay for two weeks this November.  What can I say…  So many things were both given and received by listening to each other and appreciating what each of us could bring to the mix.  So very many thanks to you both and for your  great positive energy, with the willingness to take the risk!   They also have a brilliant blog –  www.blondieandthebeard.us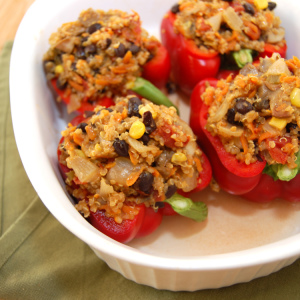 We came as woofers from California U.S.A. East Reen was our first taste of Ireland. During the cold and rainy November days we picked a warm, colourful and comforting recipe to share.  The stuffing for these bell peppers is incredibly delicious and can be eaten alone or as a side dish.  We are grateful to temporarily live with such an extraordinary chef and were grateful for the diverse menu each night.

This recipe is vegetarian and gluten free

Quinoa Stuffed Bell Peppers.

Ingredients:

2 tablespoon olive oil
1 medium onion, finely chopped (about 1 cup)
2 ribs celery, finely chopped (about 1/2 cup)
1/2 of a poblano pepper, diced
1 tablespoon ground cumin
2 teaspoons garlic, minced
1 8-oz. package mushrooms, stems removed, caps sliced very thin
1 (15 ounce) can diced tomatoes, drained, liquid reserved
3/4 cup quinoa
3 large carrots, grated (1 1/2 cups)
1 (14.5 ounce) can low-sodium vegetable broth
1 (15 ounce) can black beans, rinsed and drained
1/2 cup frozen corn, thawed
1 1/2 cups grated Pepper Jack cheese, divided
Salt and pepper to taste
4 large red bell peppers, halved lengthwise, ribs removed

Directions:

Heat oil in a large saucepan over medium heat. Add onion, celery and poblano pepper and cook 5 minutes, or until soft. Add cumin and garlic, and sauté 1 minute. Stir in mushrooms and drained tomatoes. Cook 5 minutes, or until most of liquid has evaporated.

Stir in quinoa, carrots and vegetable broth. Cover, and bring to a boil. Reduce heat to medium-low and simmer 20 minutes, or until quinoa is tender. Remove from heat and stir in black beans, corn and 1 cup cheese. Season to taste with salt and pepper.

Preheat oven to 350°F. Pour reserved liquid from tomatoes in bottom of baking dish.

Fill each bell pepper half with heaping 3/4-cup quinoa mixture, and place in baking dish. Cover with foil, and bake 40 minutes. Uncover, and sprinkle each pepper with 1 tablespoon of remaining cheese. Bake 15 minutes more, or until tops of stuffed peppers are browned. Let stand 5 minutes. Transfer stuffed peppers to serving plates, and drizzle each with pan juices before serving.